Summary of Winter Season 2020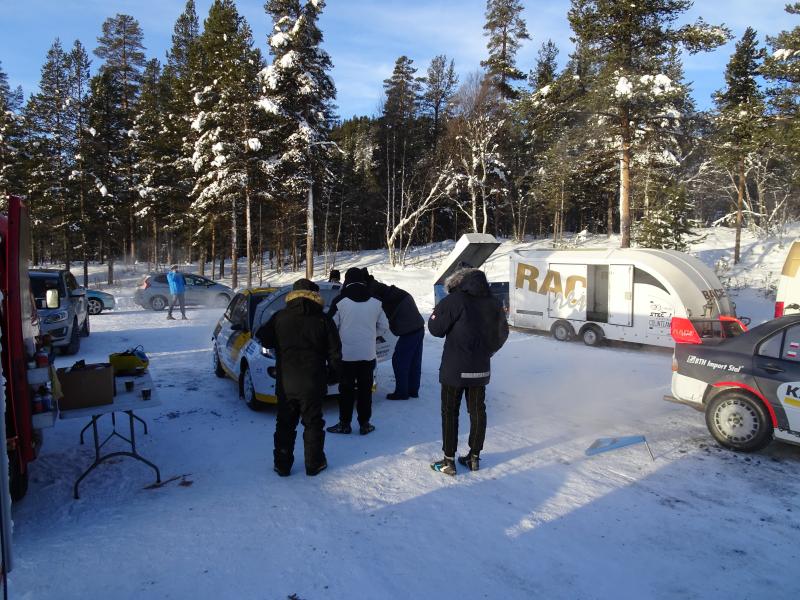 Summary of Winter Season 2020
Our season started later than usual, in January, because of the warm(ish) December weather and not sufficient ice on the lake. However the weather in January and February more than made up for it. Conditions have been excellent. Constantly below 0 centigrade, but not many days colder than  minus 10.
We had enough snow and ice on the 3 Km  lake track, and on the special stages which are 9.5 and 11 Km long. At the end of February, the snow banks on the stages were up to 1 metre high and the ice on the lake was 60 cm thick.
We had 5 weeks of rally school courses, with drivers from UK, USA, Germany, Netherlands, Czech Republic, Poland, Norway, Italy, Sweden, Kroatia, Ireland and Romania. Thankfully none of the visitors had coronvirus when they came and none had it when they left!
We had one week of training from M-Sport Poland for JWRC drivers before the Swedish Rally.
Also we had a week of road car Winter testing with Skoda and a week of driver training for drivers from Volkswagen.
British driver, Eddie Lewis was working with us in January, before the opening round of the British Rally Championship. He was leading his class until sadly he got a puncture.
This season we have had no rolls or accidents, just one car on it's side with a damaged wing-mirror and a dent in the door, thanks to the soft snow-banks!
At last  the record time on the 11 Km stage was beaten. The time of 7.04 was set by Mark Higgins in a Focus WRC more than 10 years ago. In February, Anders Grøndal set the new record at 6. 54 in his Fiesta e R5.
The record on the 9.5 km stage belongs to Kalle Rovanpera in a works Fabia R5, a time of 4. 19. The first record here was set by Colin McRae in 1998 in a Focus WRC with a time of 5. 12. It shows just how much rally cars have progressed since then.
This was our 30th  anniversary and we had some of our regular customers on courses to celebrate it. Rene Snel from Holland has been with us 17 times and Rainer Wicke from Germany has been 11 times!
It was also our 20th year of operations at Bardøla Hotel and at the lake and tracks at Dagali. We couldn't manage without Henry and his tractor in Dagali and the staff at Bardøla so a big thanks to them all.
Hopefully we'll be taking bookings again in September, just need to get rid of the corona virus first!
Stay safe and healthy in the meantime